Retread Tires
Reliable Durability. Better Value.
Get the right tires
for every job.
Type in what you need to see matching results
Start here to see GCR's recommendation.
4. What position is the tire in?
Put Money Back In Your Pocket With Retreads
Tires are the No. 1 maintenance cost for most fleets. Retread tires save you money while performing just as well if not better than new tires. We're so confident in our retreads that we offer a complimentary GCR Plus 60-Day Warranty on our Bandag retreads.
See GCR Plus 60-Day Warranty Details.
Retread Tires vs New Tires: What is the Difference?
Retread tires match or exceed new tires in appearance, performance, durability and longevity. They also use significantly fewer resources to manufacture and cost a fraction of the price. It makes retreads pretty hard to beat.
How will retread tires save me money?
Your tire is mostly made up of casing. Because these casings can be reused, retreading uses much less material and fewer resources than creating an entirely new tire. Translation: less cost to make and less cost to you.
Casing Buyback Program
Worn casings aren't fit for the road, but they can still make you money. GCR Tires & Service can create a program to repurchase worn casings. See your local GCR representative for more program details.
What are retread tires?
Worn tires still have plenty of life to give. Tire casings typically last long after a tire has worn down. Retreading involves thoroughly inspecting and repairing these casings before replacing the used tire treads with freshly vulcanized new treads.
How do retread tires help the environment?
Every tire that is retread reduces the stockpile and uses fewer natural resources to produce. According to the EPA, retread tires require 70% less oil for production and contain 75% post-consumer material. The more tires we retread, the less harmful impact we have on the environment.
Shop all new and retread truck tires.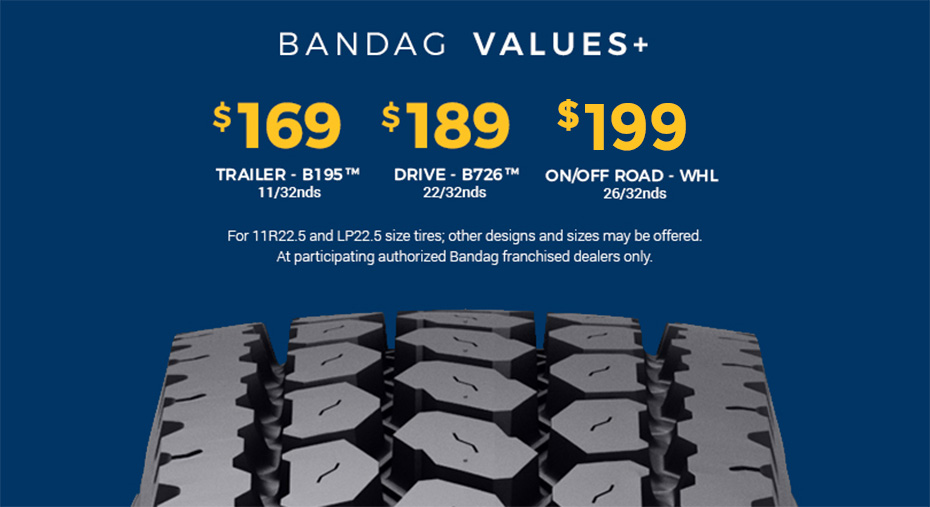 The gold standard in retreads just got even harder to beat.
The Bandag Values+™ program brings you the best value in retreads without skimping on quality or anything else. Bandag retread tires use Grade A Casings and are assembled in America with the state-of-the-art Bandag manufacturing process. They perform like new tires at a lower cost for greater overall savings to your bottom line. New, low-cost imports just can't compete.