BACK TO RESULTS
Firestone FS591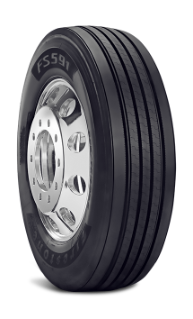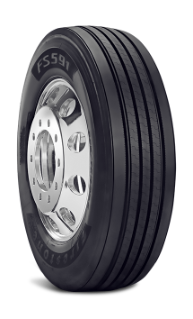 The FS591 tire is an on-highway all-position radial tire recommended for steering applications in long-haul and regional service.
Find a Store →
Inflation Pressure (PSI) 120
•

Ulti-Rib™ design combats the initiation and spread of irregular wear

•

Continuous shoulder offers long, even wear and reduced rolling resistance

•

Flow-through design allows for water evacuation to enhance road grip

•

Stress release sipes fight irregular wear on main ribs by absorbing rib edge stresses in the footprint

•

Thirsty cross-rib sipes improve traction by slicing through water for a solid grip on wet roads

•

*20% better removal mileage than Yokohama 101ZL
Inflation Pressure (PSI) 120
†The Firestone FS591 is the most dependable, longest wearing long haul steer tire in its class/segment. Fleet evaluation in long haul applications with multiple users demonstrated the majority of tested FS591 tires had at least 20% better removal mileage than the average YO 101ZL tire (and at least 30% better removal mileage than the average CO HSL2 Eco Plus tire). Actual results will vary depending on several factors such as tire size, operating conditions, maintenance, road conditions and driving style.
---
Complimentary Tire Assessment
Let our TIA-trained technicians help you stay on the road and out of the repair bay.
Learn More
---