BACK TO RESULTS
Firestone FS561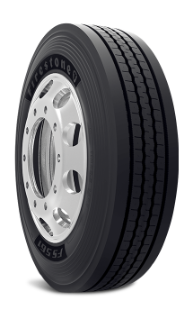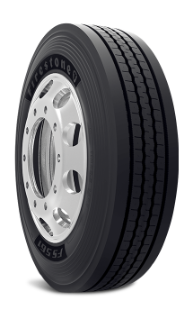 The FS561 tire is an all-position radial tire recommended for steer applications in regional haul service and pickup and delivery service.
Find a Store →
Inflation Pressure (PSI) 110
•

Tread cap compound and solid shoulder ribs enhance resistance to maneuvering scrub, leading to increased tread life

•

Stone rejectors in center grooves help provide resistance to stone drilling and protect belts for enhanced casing durability

•

Stress relief sipes fight irregular wear by absorbing rib edge stresses in the footprint for long, even wear

•

Sidewall protector ribs help protect the casing from cuts, snags and abrasions due to curbing and impacts

•

Innovative sidewall design reduces overall weight to improve fuel efficiency without sacrificing durability

•

*10% better removal mileage than Yokohama 103ZR
Inflation Pressure (PSI) 110
The Firestone FS561 is the most dependable, longest wearing regional haul steer tire in its class/segment. Fleet evaluation in regional haul applications with multiple users demonstrated the majority of tested FS561 tires had at least 10% better removal mileage than the average YO 103ZR tire. Actual results will vary depending on several factors such as tire size, operating conditions, maintenance, road conditions and driving style.
---
Complimentary Tire Assessment
Let our TIA-trained technicians help you stay on the road and out of the repair bay.
Learn More
---